Barking is natural doggy behaviour — it's how they communicate — but sometimes it can can get out of hand.
Thankfully, the rise of bark control devices means that there are plenty of helpful products on the market that can help you manage your pup's yapping and unwanted behavior.
If you need to control a dog's barking, you'll undoubtedly have concerns about whether the device is safe, ethical and effective to use.
In this guide, we'll show you the best anti barking devices, with a focus on safe options that will induce the necessary behavioral changes in a humane way.
Let's find out more…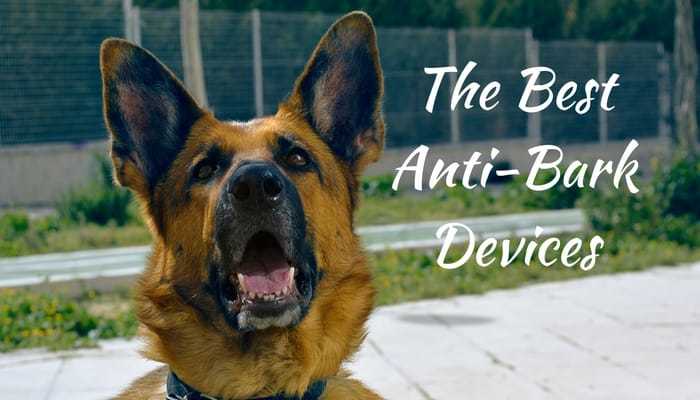 5 Best Anti Barking Devices
Looking to correct a dog's excessive barking behavior – fast?
Here are some of the best rated devices on the market.
We've pulled together some low-cost budget options – along with some of the more premium devices available – so there should be something in here to fit your budget.
Hoont Ultrasonic Bark Control Device
The Hoont Electronic Dog Repellent training aid emits a powerful (yet harmless) ultrasonic sound, teaching your dog to associate the unpleasant sound with disobeying commands to stop barking.
It's also effective at deterring other destructive behaviors like chewing on furniture and jumping on guests. You control the handheld remote so can incorporate it as a tool into your training routine. It works remotely up to a whopping 50 feet away.
Some buyers also choose to use it as a dog repellant, which you may find useful if you have a particularly aggressive neighbor's dog, or if you often find dogs on your lawn.
Pros
Harmless (yet annoying) to dogs and safe (and inaudible) for humans
Can be used remotely up to 50 feet away
Small, portable device that easily fits in your pocket or handbag
Has an LED flashlight which also acts as a battery indicator
Can also be used to deter other unwanted behaviors
Your dog doesn't need to wear a collar or experience any shocks
Also has an 'audible' button if you need to alert people around you that you may be attacked by a dog or require assistance
Cons
Some dogs will still show indifference!
SportDOG Brand NoBark 10R Rechargeable Bark Collar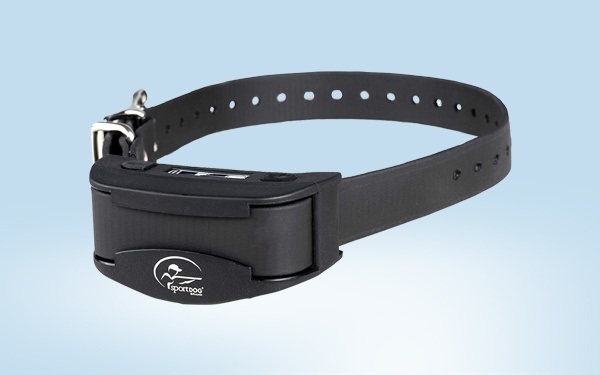 This is a very popular bark prevention device by SportDOG, boasting 'perfect bark technology'.
It's considered one of, if not the, best anti-bark collars on the market.
There are plenty of options for you to tailor the collar to your dog's needs, with 10 levels of static stimulation and 3 different training modes to choose from: temperament learning, progressive correction and user selected.
There's no separate handheld control with this anti barking device. Instead, the collar has an in-built sensor which detects barking via both sounds and vibration from the vocal cords, meaning it won't get to work if it simply hears any dog barking. It's a smart device with the ability to remember the last static stimulation correction level it used, and an automatic shut-off after 3 minutes.
The user selected mode allows you to choose the correction level of the static stimulation, instead of starting at the lowest level and progressing upwards.
It's suitable for dogs weighing 8 lbs and over.
Pros
3 different modes of learning
10 different levels of static stimulation
Sophisticated bark sensor – no false triggers
DryTek waterproof and submersible to 25 feet
Automatic 3 minute shut-off for safety
Charge lasts 3-6 months per charge
Smart correction memory
Cons
Premium option – it's a little expensive compared to others on this list
First Alert Bark Genie Handheld Bark Control
This affordable bark control device also uses harmless ultrasonic sound to calm and distract barking dogs. Simply activate the device with a push of the button at a distance of up to 15 feet away to divert correct your dog's behavior.
The device is made by First Alert, a company with a long heritage of manufacturing household products, and they carefully develop all their pet products with professional trainers and experts in order to hit on the best results.
Pros
Only dogs can hear the harmless ultrasound waves
Works within a range of up to 15 feet
Works on all breeds
Battery operated so no recharging required
Small and portable with an adjustable wrist strap
Comes with a 1 year warranty
Flashing LED light tells you when to change the battery
Cons
At a maximum of 15 feet, the device range is small
Device is fragile and can break easily if dropped
Vitorun Barking Box Deterrent
This barking deterrent is a little kooky and has divided opinion amongst dog owners.
The cute birdhouse design means that it fits unobtrusively into your garden and doesn't require your dog to wear anything. Some people with noisy dog neighbors use it in their gardens even if they themselves don't have a dog.
It uses high-pitched ultrasonic sound technology which is triggered automatically when within range of a barking dog. It has a range of up to 50 feet and 4 different sensitivity levels so you can adjust how bark sensitive the contraption is.
Your dog will begin to associate their bark with this unpleasant noise and will eventually learn to stop barking.
Pros
Has an effective range of up to 50 feet (also works on your neighbors' dogs!)
Adjustable sensitivity settings
Weatherproof and durable
Suitable for outdoor and indoor use
Sturdy unit
Looks cute!
Cons
You'll have to crank the sensitivity levels up for higher-pitched barking dogs
May not work with deaf or hearing impaired dogs
PetSafe Basic Bark Control Collar
For many owners, this is the best anti bark collar on the market: it's easy to use, safe, and super effective at reducing your pup's excessive barking.
When your dog barks, the vibration triggers the collar to administer a static correction, beginning at the lowest level and gradually increasing if your dog continues to bark (although always within safe limits and stopping after 50 seconds).
Once barking stops, the collar will reset itself to the lowest level for any later barking. The static correction is only a gentle tingle that indicate a new sensation to your dog, thus distracting them and stopping the barking.
This anti bark collar is suitable for dogs weighing 8 lbs and over.
Pros
Lightweight and waterproof up to 5 feet
Six levels of static correction
Battery indicator signals when it is time to change the battery
Can't be triggered by other dogs barking as it detects vocal cord vibration from your dog's bark
Anti bark collar beeps every time there's a static correction so you can monitor your pup's progress
Will shut off for 3 minutes if your dog barks over 15 times in 50 seconds
Easy to use and doesn't need programming prior to use
Cons
Only suitable for dogs 8lbs and over
Doesn't have any impact on other nuisance behavior, only barking
What Is An Anti Bark Device?
An anti barking device is designed to teach your dog that negative things happen every time that they bark, which should result in the dog eventually learning to hold back their barks in order to avoid the negative response.
They used to be used solely to train hunting dogs, but it quickly became clear that they could be a useful tool in training domestic pups too.
Anti bark technology has developed dramatically in recent years, and there are now a wide selection of anti barking devices available to choose from. Here's a quick guide to the three main types on the market:
Different Types of Devices to Stop Barking
Ultrasonic Sound Emitter
These are either remote devices or collars that work to discourage barking using the power of ultrasonic sound. Sensors will detect when your dog starts barking and will transmit an ultrasonic sound, so high pitched that its only audible to dogs.
The triggered sound will surprise your dog and is unpleasant enough to stop them barking.
If your dog continues to yap, the sound will likely increase to a determined point (always within safe limits) until your dog stops.
There are several ultrasonic bark control devices and we've featured a couple of them in our guide.
Anti Bark Collar
This is very much like the sound emitter, but replaces the high pitched sound with a small jolt of electric shock via the collar. This will surprise your pup and stop the barking.
Modern shock collars are much more humane than in the past, and are always restricted to safe levels of shock, but care should be taken as misuse of an anti bark collar may cause dogs to become aggressive or fearful.
Anti Bark Sprays
It turn out that dogs aren't too fond of the powerful odor of citronella.
A certain configuration of anti bark device will spray a jet of citronella infused water into your dog's face each time they bark, helping to correct the undesired behaviour in quick time.
Water spraying collars are also available, which may be slightly less unpleasant for your dog yet still effective.
Are Anti-Bark Devices Safe?
There's plenty of discussion in the dog owning community as to whether the use of an anti bark collar is safe and humane.
As long as you buy high quality, tested and well reviewed products, it ultimately comes down to how you use them.
First things first, you should never attempt to stop your dog barking altogether. As we mentioned earlier, barking is a natural canine behavior and is a way for your dog to communicate, showing you when they're excited and fearful.
So, an anti bark device should only be used if you consider your pup to be indulging in excessive barking. That is, when they bark for long periods of time for seemingly no reason — not just because there's someone at the door or if they're excited to see you.
When you use an anti barking device, make sure to use it sparingly — and certainly not all day every day. It should be deployed as a training tool that teaches your dog an important behavior rather than a permanent fixture around their neck.
The device with the most potential for harm is the shock collars so use these only with careful consideration and even with professional advice before you resort to them.
Always follow the instructions, start gently and use sparingly when it comes to successful use of an anti bark device.
Gentler Alternatives to Anti Barking Devices
If you're not keen on the punishment style of training with an anti bark collar, you could consider a few gentler alternatives first.
Firstly, figure out the cause of your dog's excessive barking. Is it out of boredom? Are they being territorial? Have they not had proper obedience training?
Many dogs indulge in excessive barking because they have an overabundance of energy. If you suspect that might be your dog's problem (often its accompanied by other manic behavior like destructive chewing, digging and jumping), you need to commit extra time to exercising them and expending their energy.
We're talking long, daily walks and regular training.
If you suspect that your dog is being territorial, you may need to put in the effort to socialize them better with other people and dogs.
Take opportunities to take them to a dog park, meet other people and have other people come to your home. This way, you can train your dog in the proper behavior when people come to visit.
When your dog's excessive barking is down to the fact that they just bark at anything and everything because they don't know any better, it's a good idea to get them started on a regular course of obedience training. You can read our training tips here.
The idea here is to stop reinforcing your dog's bad behavior. When they start barking for no reason, ignore them and pay them no attention. After a certain period of time, they'll learn that their barking gets them no attention from you, their owner, and they'll learn to stop doing it.
When they start being calm and remaining silent in the face of outside stimuli, you can treat them and reward them for their good behavior. This way they know that there are rewards available if they refrain from barking.
Obedience training isn't an immediate relief from excessive barking like a stop barking device is, but with regular short and sweet sessions, it's a great way to change your dog's behavior for the better in the long term.
This video is a great introduction on how to naturally stop your dog's excessive barking:
Why Won't My Dog Stop Barking?
Before you invest in a barking control collar, it's worth taking a moment to actually consider why your dog is engaging in excessive barking and, indeed, if their barking can be considered excessive at all.
Firstly, all dogs bark.
Well, except for those huskies that love to howl.
You're never going to completely stop your dog barking and you shouldn't try to either. It's a natural expression for canines and is one of the ways they communicate with you and other dogs.
And just like how human communication can mean something different every time we open our mouths to speak, it's the same for dogs. Different barks can suggest your dog is experiencing different emotions. Here's a great dog bark translation guide.
Acceptable barking includes the following:
A bark when the doorbell goes
When they're excited
When they're scared
When they're trying to tell you something — like there's an intruder in the house
This barking can quickly turn into something excessive, however.
For instance, when they constantly bark at other people and dogs on their 'territory', when they get too excited and can't stop barking, when they can't stop barking at the door.
And that's when you turn to anti-bark training and a stop barking device.
Benefits of a Barking Control Device
While some owners may prefer to go without an anti bark collar, they do have some great, immediate benefits.
If they're used responsibly, they can be one of the quickest and most effective ways to get your dog to stop their excessive barking.
Here are some of the benefits:
A harmless way to teach your dog to rein in their barking
Safe and easy for humans to use
Some devices can be used remotely — great if you're out in the park or not at your dog's side
Can help stop other destructive behaviors, like chewing and digging
They are an effective last resort if you've tried all the training and exercises available to you but your dog still won't stop barking.
Final Thoughts on Barking Prevention Aids
If you're fed up with your dog's excessive barking and have tried training and exercise to no avail, it's a great idea to consider the merits of a stop barking device.
Hopefully now you'll be equipped with all the knowledge you need on the best anti bark device for your dog. Just remember to praise and reward your furry friend during their corrective training!
---
Which do you think is the best stop barking device?